Since 1982
About Designs in Rugs
Designs in Rugs was founded in 1982 by Hank and Terri Molesky and is still owned and operated by the Molesky Family. It's the quality, flexibility and custom options that make Designs in Rugs a preferred choice for interior designers and fine furniture stores.
Designs in Rugs has been commissioned to produce custom designed rugs for NASA, Busch Gardens, Anheuser-Busch and many other organizations. It's our attention to detail and committment to quality that positions us as premier provider of custom made rugs in the US.
With our workshop in Lutz, Florida we are able to repair, resize, finish edges and complete custom alterations without outsourcing the work overseas. This provides our clients with fast turnaround on service orders, keeps shipping costs low, and reduces our footprint on the environment by avoiding international shipping.  Of course it also allows us to control the quality of our work while allowing you to support a US based family owned business.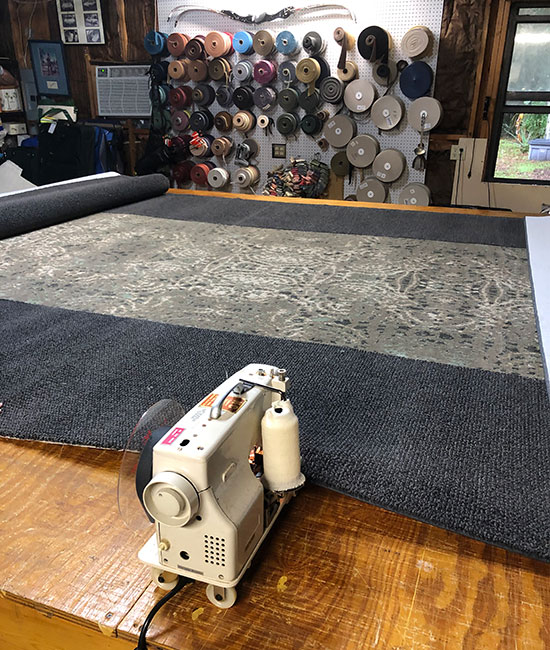 Custom Rugs
We have had the pleasure of creating custom rugs for NASA, Busch Gardens and Anheuser Busch. By offering the ability to submit a completely custom design we can make your dream rug a reality. Give our professional team a call for a free consultation to help take your project from concept to reality.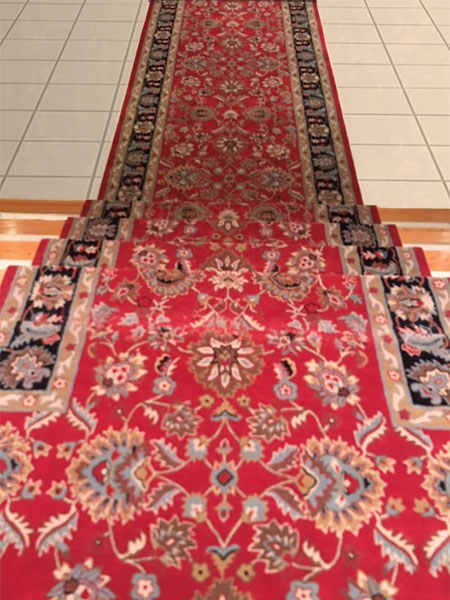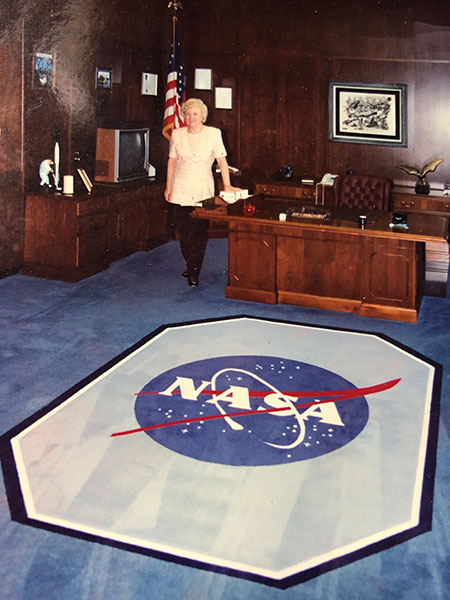 Rug Binding
Binding gives a rug a tailored look by wrapping a strip of fabric around the edge of the carpet and stitching it in place. Binding is the least expensive way finish the edge of your rug which preserves the life of your rug and avoids fraying.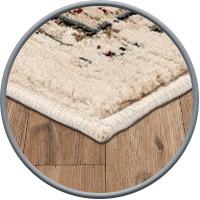 Rug Serging
Serging, also called overlock stitching, offers a more elegant finish than binding. An overlock is a kind of stitch that sews over the edge of the rug which looks as though a thread or string has been wrapped around the edge of the carpet continuously. This is the most common style of finishing rug edges and creates a more elegant finish than binding.
Rug Resizing
If you find a rug that you love but it's not the right size, we can help. On new rugs we recommend you order the next closest size up and we can cut it down and refinish the edge at a reasonable cost. Call to discuss your needs and we'll be glad to help you.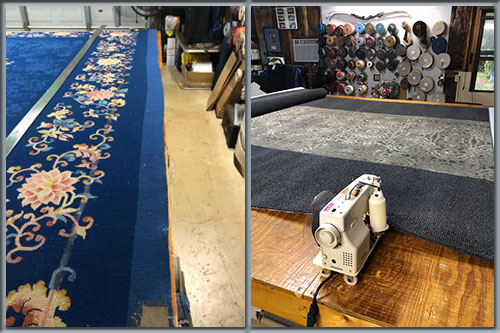 Our Workshop offers Custom Alterations including Resizing, Serging and Binding.
We're happy to assist you with placing your order or by answering any questions you may have. Use the form to the right to contact us or if you prefer, we're also available by phone or email.